Ohio Residential Lease Agreement Form
When one is finalizing a lease, a crucial document that must be created and signed is an Ohio Residential Lease Agreement Form. It is a contract that clearly outlines all the conditions of the occupancy of the property as well as the responsibilities of both parties.
The tenant must pay monthly rent at a set date and is expected not to damage the property during their stay. In some cases, the monthly rent will also include the cost of utilities. On the landlord's part, they are obliged to repair the damage that occurs beyond the tenant's control. 
Lease agreement forms also indicate the number of occupants on the property and if pets will be on the premises. It should also include all disclosures mandated by Ohio law.
Standard lease agreements are for one year. Note that the landlord should have already screened the tenant before the lease agreement form is signed.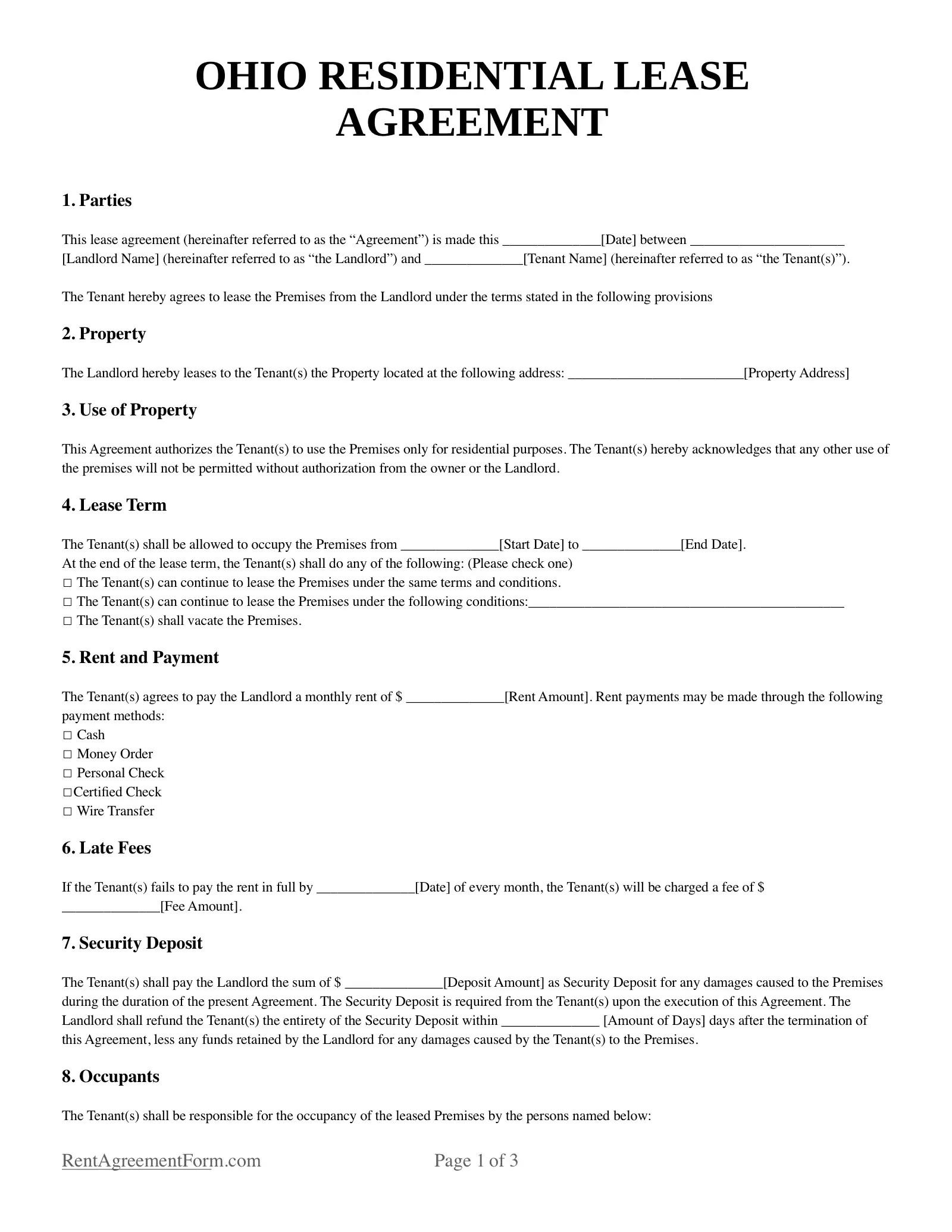 Required Disclosure
The state of Ohio only has one required disclosure, and it's a federally mandated one. This is, of course, on top of important disclosures such as the name of the property owner, the date the property was built, and other details already found on an Ohio residential lease agreement form. 
The US government banned the use of lead-based paint in 1978. If the subject property apartment or property was built before 1978, the landlord must inform the tenant about it. The tenant must also be provided with a pamphlet about the health hazards of lead (42 U.S. Code § 4852d).
Rent Grace Period
In Ohio, there are no rent grace periods. This means the landlord can begin charging a late fee the day after rent is due. 
However, late fees have to be reasonable. While there is no set maximum as to the amount that can be charged, courts are not bound to enforce disproportionate late fees. 
The average charge for being late on rent is around 5% of the monthly rent. Some landlords also impose a simple flat rate, usually between $50 and $100. 
Security Deposit Laws
No law in Ohio pertains applies a limit to security deposits. However, most landlords indicate the amount on the rental lease agreement.
The security deposit is for the landlord's peace of mind if the tenant reneges on rent payment or if there is egregious damage to the property at the end of the lease period.
There is also no mandate as to the amount a landlord can collect for a security deposit. The average nationwide rate is about a month's worth of rent. When the lease agreement ends and the tenant moves out of the property, the landlord has 30 days to return the security deposit. 
The landlord can deduct expenses in case of damage to property, unpaid rent or utility services, or a breach of the lease agreement (Ohio Rev Code § 5321.16 (2021)). 
Helpful Resources
Frequently Asked Questions (FAQs)