Virginia Residential Lease Agreement Form
A Virginia Residential Lease Agreement Form is a fillable contract between a landlord and tenant regarding the temporary use of a property. The agreement indicates all the specifics of the tenancy, such as length of stay and monthly rent. 
The lease agreement also outlines the responsibilities of both the landlord and tenant. The tenant is obliged to pay rent on time, while the landlord must ensure that the property is safe and secure for occupancy at all times. The tenant should not recklessly damage the rental property while the landlord is responsible for repairs when issues arise. 
A printable template for the rental application is available for download for maximum convenience. It can be signed as-is or changed to include everything the landlord and tenant agreed on. It must also include all rental property disclosures mandated by Virginia law.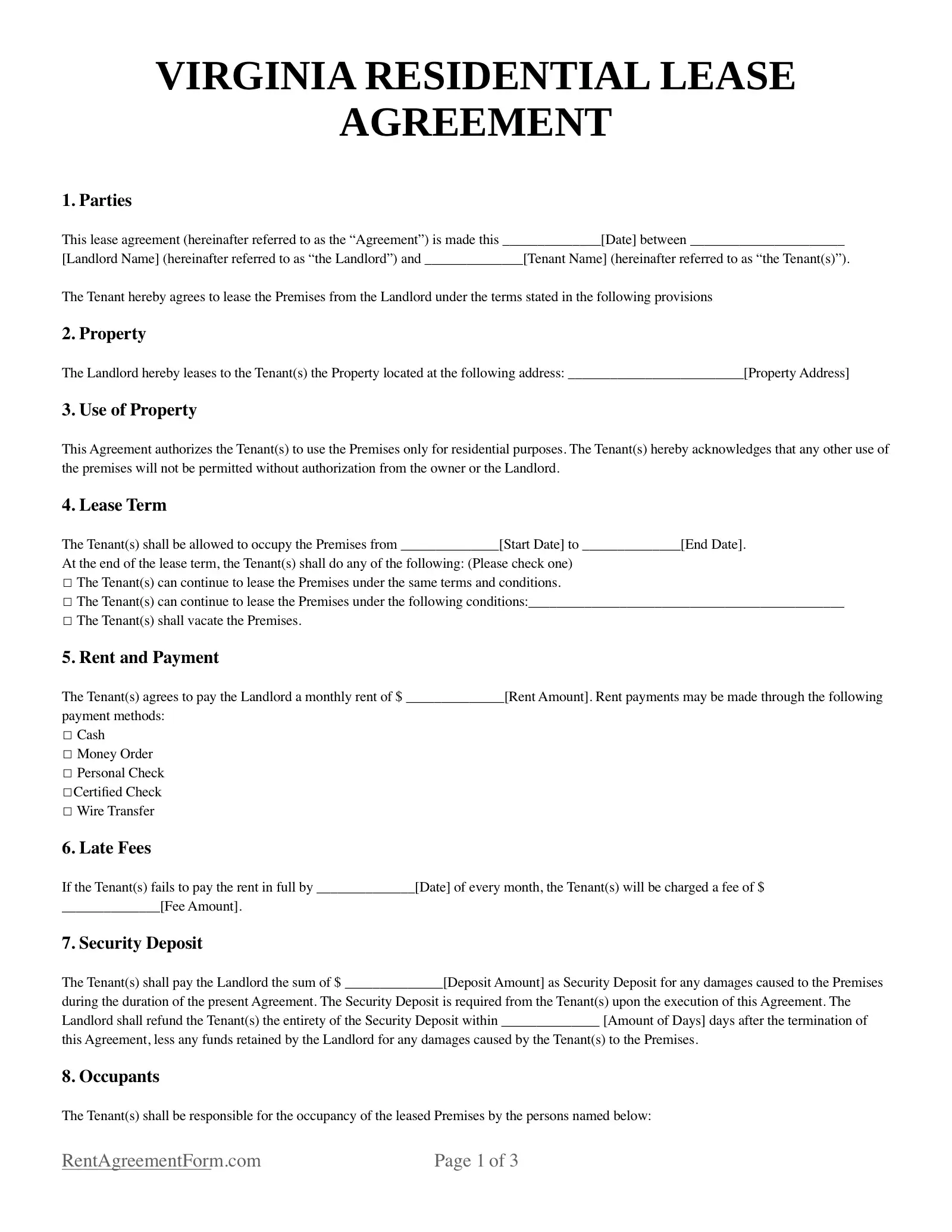 Required Disclosures
Rent Grace Period
There is a mandated five-day rent grace period in Virginia. If, after five days, the tenant still has not paid rent, then the landlord can charge a late fee. 
The late fee cannot be more than 10% of the monthly rent or 10% of the balance of the rent owed. 
Security Deposit Laws
A security deposit is a good cushion if the tenant fails to pay rent or leaves behind damage to the property when they move out. 
No Virginia law requires landlords to collect security deposits. But if a landlord chooses to collect a security deposit, they cannot set an amount higher than two months' worth of rent. 
When the tenancy ends, the landlord has 45 days from the day the tenant moves out to return the security deposit (Code of Virginia § 55.1-1226). 
Helpful Resources
Frequently Asked Questions (FAQs)